(This post originally appeared on the Withdrawn Radio Blog on April 2, 2006)

Welcome. Since it's Opening Day somewhere, this here initial installment of Withdrawn Radio consists of baseball related songs found on shellac or vinyl. The show runs slightly over half an hour. Download it as a "podcast" or tune in to the streaming audio.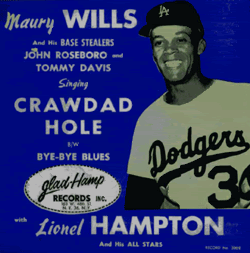 Click here to listen or download.
1.
Albert Jones
-
Vida Blue
: Hands down the best James Brown imitation to be found on a baseball single since the lowering of the mound. Oakland's Vida Blue pitched his team to 24 victories in 1971 and inspired Tom Newton to pen this tribute to the young lefty. Keep your ears peeled for Newton's own rendition towards the end of the program.
2.
Denny McLain
-
Cherish (dub version)
: Capital Records released two pop organ LPs featuring Denny McLain on the 606lb. Hammond X-77. DJ Planar 78 worked his magic for this rarely heard radio remix. ESPN's
Nick Acocella
claims: "Denny McLain will be remembered for two things: He was the last 30-game winner of the 20th century and that he spent a lot of time in prison." Obviously Mr. Acocella isn't a record collector.
3.
Little League Field Ceremonies
-
Little League Pledge
: From the Double-Play Records' official Little League 78 rpm disc. The kid sounds like a right-fielder.
4.
Tony Conigliaro
-
Playing The Field
: Apologies for the brutal audio quality. Part of a string of cheesy 7" singles
Tony C.
released in the mid-sixties. Someday someone should issue the
Complete Recordings of Tony Conigliaro
. The cell phone yackers that wave (and still do
the wave
) from behind home plate during Red Sox telecasts deserve nothing less than the putt-putt of a "Little Red Scooter" earworm.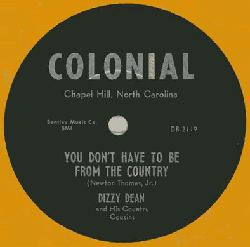 5.
John Kiley with Rico Petrocelli
-
Mame
: The Red Sox power hitting shortstop reportedly played drums in the off-season to keep his wrists strong. In addition to performing at Fenway, Kiley also played the organ for Celtics and Bruins home games in the Garden. This cut comes off of an album Petrocelli accompanied Kiley on after the '67 season.
6.
Phil Rizzuto, Tommy Heinrich, Ralph Branca, and Roy Campanella
-
The Umpire
: A quartet of bellyachers spend the b-side of their Mitch Miller sing-a-long griping about how authority sucks. Thanks to the
Kiddie ReKord King
, I can tell you with confidence that this 6" record dates from 1952. According to the cover jacket, back in those days kids needed to pester their parents out of 35 cents for a
Little Golden Record
. Pretty sure I paid a dime for this one.
7.
Johnny Prytko and His Connecticut Hi-Tones
-
Yastrimzski
(sic)
Hop Polka
: From the
Play Pennant-Winning Polkas
LP, released in celebration of the Cards winning the 1967 World Series. Prytko's follow-up
There Is No E In Team
tops many a chin music collector's want list.
8.
Nelson Briles
-
Hey, Hank
: Capital released this Briles single before the start of the 1974 season. It's was the pitcher's plea, put to music, that Henry Aaron try to hit #715 off of somebody else. It didn't take long for Aaron to grant the singer's request. The Dodgers' Al Downing became a gimme trivia answer and Big Al Downing sold a few albums to confused baseball nostalgia geeks.
Nelson Briles
died early last year, so it looks like it'll be up to Bronson Arroyo to cut a "Hey, BALCO" single.
9.
Ed Nottle
-
Always On My Mind
: Nottle has spent most of his career managing minor league and independent league teams. When he finally did receive a brief shot in the big leagues, he blew his savings recording
To Baseball With Love
. The album cost Nottle his house ("But big deal. Everybody's got a house."
- Ed Nottle
). Forget about Rites of Spring, this is as emo as it gets.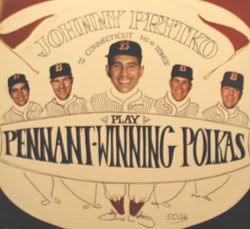 10.
Tug McGraw with Peter Nero and the Philly Pops
-
Philadelphia, Philadelphia, We Are #1
: Next time I'll try to track down some music from the reliever's years in NY.
Tug
may be just what's needed for that tricky playlist transition from Jerry Grote's recording of "Hellhound On My Trail" into Kevin Mitchell & Tim Teufal rapping about getting
Metsmerized
.
11.
Maury Wills And His Base Stealers with Lionel Hampton
-
Crawdad Hole
: With his teammates John Roseboro and Tommy Davis also on board, Wills doesn't do a bad job on this side. In fact it's almost worth sitting through the previous nine cuts just to hear their recording.
12.
Tom Newton
-
Vida Blue
: The flipside of the song that started this set. Sounds almost like something from
The American Song-Poem Music Archives
. Released in 1971 by Choker Campbell's Saginaw, Michigan based Tri-City Recording Company.
13.
Dizzy Dean and His Country Cousins
-
You Don't Have To Be From The Country
: Prior to Denny McLain, Diz had been the last pitcher to win 30 games in a single season. He cut this ode to the universal appeal of hillbilly music in 1947. And, yup, it was
mysteriously
reissued
in more distinctive packaging just a few years ago.
14.
Art Kassel and His Orchestra with the Tip-Tops
-
Little Leaguer
: The flipside to the pledge 78. And that's it for this edition of Withdrawn Radio. Not sure when there will be a second episode. Maybe in a few weeks. Maybe Opening Day '07. That should give me enough time to track down a tape of
INSIDE PITCH
:
Presenting "Inside Pitch," a one-act musical play about baseball, the fourth, fifth and sixth grade students at Blair Elementary School wowed two audiences of family, friends, staff and the public with their effort. They sang, danced, acted and brought the history and joy of baseball to life during an afternoon and an evening performance.

"I play baseball," said Yuriy Alekseykov, who portrayed Vida Blue in the play. "It's fun to perform."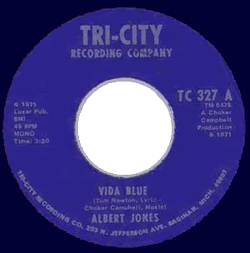 As 100 voices united to sing the National Anthem Thursday morning, music teacher Peggy Pierson declared she got a double dose of goosebumps from their soulful sound.

"You guys don't sound like a group of fourth, fifth and sixth graders, you sound like a choir from downstate," said Pierson, the play's director during the dress rehearsal. "This will blow the socks off of our visitors."

Donning homemade costumes and throwing themselves into character or the background chorus, students enjoyed the chance to shine.

"I think it's kind of fun to sing when all these kids come and listen to you," said Erik Postaychuk, who portrayed Whitey Ford in the show.

Other hitting and pitching stars making an appearance during the performance included Vida Blue, Lou Gehrig, Dizzy Dean, Fred Merkle, Babe Ruth, Cy Young and Sandy Koufax. The story did not forget about the fans, the press, vendors or the umpires, either, giving a nod to each in song. The play's various skits acted out a facet of baseball history, lore or tradition, with songs such as "The Baseball Craze," "Dump on the Ump!" and "The Vendors' Song" lending punch to the story.

The narrative revolved around a group of seven friends putting together a report on the America's pastime. Delving into a suitcase filled with memorabilia, these students traced the history of the sport from it's beginnings in the mid 19th Century.

A veteran music teacher on her 11th year in the Traverse City system, Pierson has presented "Inside Pitch" two previous times in the district.

"This is the second time here, I do it about every four years," she said. "The whole thing is tied into baseball and we're a baseball family."

"I'm so proud of them, they groove on this," Pierson added.

Students previously performed the play for staff members of the Traverse City Beach Bums, a Frontier League baseball team whose new stadium, Wuerfel Park, is situated nearby. The school and team are forging close ties as the Beach Bums prepare for their inaugural season.